Home → Mississippi - Points of Interest by County
Mississippi Historical Markers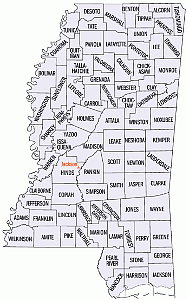 The historical markers of Mississippi State provide a fascinating journey through the birth of a nation, birth of a state, outbreak and resolution of the Civil War, development of the Blues in music and other cultural signposts.

Mississippi's historical markers pinpoint the places where significant events occurred, where architectural relics are found, and where important people lived and interacted.

Some of the architectural jewels of the Magnolia State include famous antebellum homes and cotton plantations, water mills, saw mills, electric mills, Italianate buildings, along with Neo-Classical Revival Style structures.

Some of the most important popular cultural markers found in the state include the Birthplace of Elvis Presley, the hometown of movie star Gerald McRaney, and the Blues music landmark Where the Southern Crosses the Dog.

The Mississippi historical markers have unfortunately had a somewhat ephemeral aspect — StoppingPoints.com editors have identified that Mississippi is missing an unusually high number of marker plaques and signs. Historical markers get moved or relocated commonly in many states, but the numbers of ones showing up missing in this state is so high that we cannot help but believe that many are being deliberately removed. There has been a rise in theft of marker signs throughout the country as dishonest individuals steal the plaques and sell them off for scrap metal value. Hopefully that's not the case in Mississippi, but efforts need to be redoubled in the state to replace missing markers and to protect and preserve the existing ones.

Browse markers by Miss. County:

Weather data provided by O​p​e​n​W​e​a​t​h​e​r​Map. Copyright © StoppingPoints.com, 2018. All Rights Reserved.