Wynnewood




210 Old Highway 25, Castalian Springs

TN

,

USA


Phone: (615) 452-5463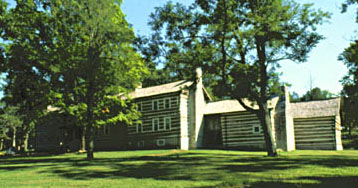 Wynnewood is the largest extant log structure in Tennessee. It was built in 1828 by A. R. Wynne, William Cage, and Stephen Roberts as a stagecoach inn on the Nashville-Knoxville Road. In 1834 Wynne purchased his partners' interests and moved his family into the inn, where he resided until his death in 1893. Throughout Wynne's lifetime, guests were received at the house, attracted partially by the reputed medicinal powers of the mineral waters and the scenic beauty of the area.

The mineral springs at Wynnewood are part of the sulphur lick discovered in 1772 by Isaac Bledsoe, a Virginia long hunter. Today the spring waters still flow and visitors may see the site where Thomas Sharp (Big Foot) Spencer spent the winter of 1778-79 in a hollow sycamore tree.

(April 1-Dec. 31) 10:00 a.m. to 4:00 p.m. Monday-Saturday and 1:00 p.m. to 5:00 p.m. Sunday. Closed January through March.


Copyright © StoppingPoints.com, 2008. All Rights Reserved.